Crayola.com is such an amazing website; eons ago when I was a teaching assistant I looked up lesson plans for my students, vacation and weekend crafts for my kids, and today I'm back at lesson plans for my four year old to keep him arting and learning until he begins kindergarten. I get their monthly newsletters, and wanted to share this month's with you, as many families are taking vacations and day-trips this time of year. My little one is especially interested in the layered book, and wants to make one the next time we go to the local Discovery Center for our weekly animal class. Happy arting!!
http://www.crayola.com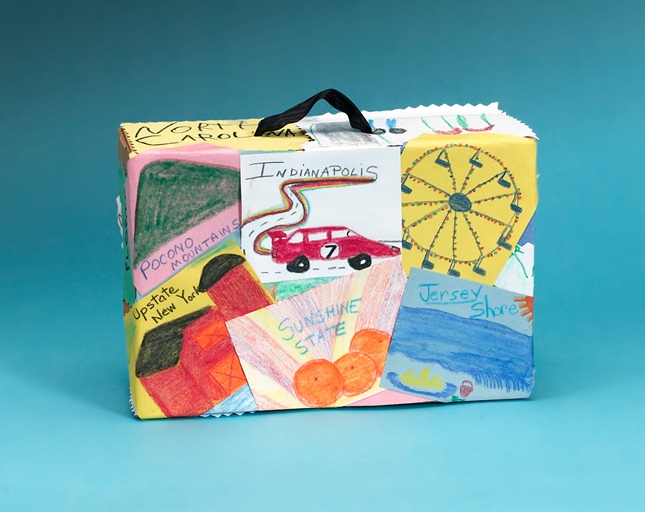 Children always need places to store their travel treasures. Take a dream vacation with them as they cover their suitcase with handmade travel stickers.
Choose a box for your suitcase. A one-piece sneaker box is great because the lid is attached.

Cut construction or white paper into rectangles with Crayola® Scissors. Draw pictures of places you have visited or hope to visit on your travel stickers. Use Crayola Crayons and Crayola Washable Markers to create scenes of parks, picnics, famous places, cities, beaches, or mountains. You could also include vehicles such as cars or planes.

Write travel words or destinations on more rectangles. Have fun! Visit the Big Apple! Customs! are some examples. Make up more words of your own.

Attach stickers to your Souvenir Suitcase with Crayola Glue Sticks. Point them in different directions to cover your suitcase.

To make a suitcase handle, ask an adult to poke two holes through one end of the box. Thread ribbon through the holes, and knot the ends inside the box.
Make and save your memories on vacation, at camp—or wherever and whenever you go away!
These three accessories are perfect for preserving your good times. Make them all, before or after your trip.

Postcard Pouch. Postcards deserve a special place! To make a pouch to organize them, fold Crayola Neon Color Explosion® Paper in half. Decorate the pouch with Neon Color Explosion Markers and foam pieces. Punch holes along both sides. Lace with ribbon. Embellish with Glitter Glue. Air-dry the glue.

Treasure Box. Looking for a spot to keep travel or camp treasures? Glue pieces of decorated Neon Color Explosion Paper and ribbon onto a recycled cardboard box to make a keepsake box. Air-dry the glue. Place your pictures, souvenirs, and other mementos inside.

Tiny Tee. Create a vacation shirt you can't outgrow! Cut out a thin cardboard T-shirt or use a paper maché T-shirt ornament. Color your T-shirt with Crayola True to Life™ Markers. Decorate the tee with vacation-inspired designs and foam stickers. Punch a

Pack all your vacation-themed crafts into a tote bag like the one you can make in Vacation Take-Along Pack!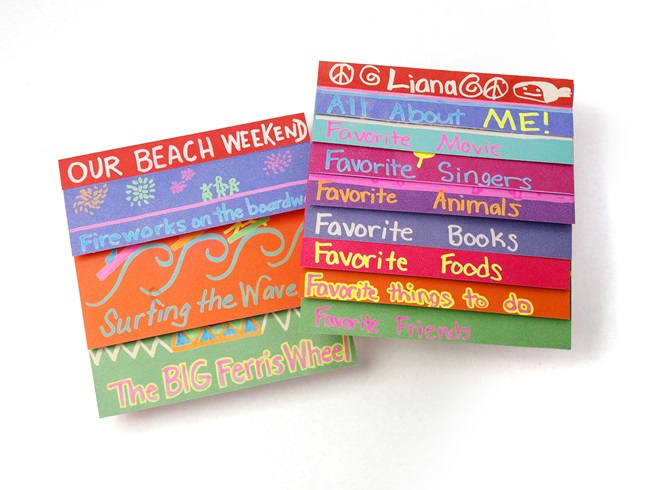 Use Crayola Neon Color Explosion Paper and Markers to make a book about your summer vacation, about your dreams for the new school year or all about you and your friends. Great for school projects or as a unique birthday card, this craft is fun, fast, and
Directions for a Simple Layered Book: Choose one piece of Neon Color Explosion paper. Fold down the top edge (about an inch or 2cm). Press the fold so you get a firm crease.

Fold a second piece of Neon Color Explosion paper. This time fold down a bigger flap (about 3 inches or 7cm). Tuck this folded piece under the flap of the first one.

Glue the two pieces together. Squeeze a line of Crayola School Glue under each flap by the fold. Press down and hold.

Use Neon Color Explosion Markers to write on each layer of your layered book. Draw pictures under the flaps.

Directions for a Layered Book with even more layers! Start with 5 pieces of Neon Color Explosion paper, one of each color. Arrange so the short edges are all at the top.

Use a ruler to measure down one inch (2cm) on the first one. Make a small mark on one side.

Measure two inches (5cm) down on the next. Measure and mark three inches (7cm)down from the top on the third piece. Measure and mark four inches (10cm) down on the fourth piece of paper. Save the fifth piece for later.

Now fold each one on the mark you made, lining up the edges to make folds straight! The fifth piece gets folded in half.

Arrange all of the folded pieces in order with one tucked inside the other so you can see the layers.

Squeeze a line of Crayola School Glue under the first flap along the fold and press down to attach. Then fold up the next flap over the first one and glue underneath. Keep doing that for each flap until they are all glued together.

You're ready to make designs!