I love my Tuesdays off. I like my job very much, don't get me wrong. I work with some great people who are doing great things for others. But Tuesday is all mine to do (or not do) whatever I wish. Or it would be, if I actually used some of the tips and trick I read about in other blogs and share with all of you. Case in point: I have a college application to finish, an article for
SageWoman
due (It's Imbolc eve, and guess how much I have done for this festival?) and a refrigerator that is beginning to resemble the Ross Ice Shelf. (Empty frozen waste...) Oh, wait, it's not quite empty. Leftover chicken, and leftover pasta. Mmm. How the heck does Ellie turn this into a meal? Hello Google!
Dinner at the zoo.com (http://www.dinneratthezoo.com) suggests Butternut Squash Pasta with Chicken. And I just happen to have a butternut squash looking at me from a shelf across the way. (And yes, it is looking at me. Bubbah and I did a re-enactment of one of our favorite books,
Sophie's Squash
, so this particular squash has a face. Sorry Mr. Squash. You're dinner.)
So here you are, Butternut Squash Pasta with Chicken, courtesy of Dinner at the Zoo. (Why don't I ever come up with yummy-looking stuff like this??) I will be heating the chicken I have in my fridge, and making up a box of pasta to add to what I already have (which is good, as I need some starchy water for the sauce). And as Mr. Squash is whole, I'm going to cut mine in half (I sound like I'm plotting a murder) and roast it before pureeing. Wish me luck!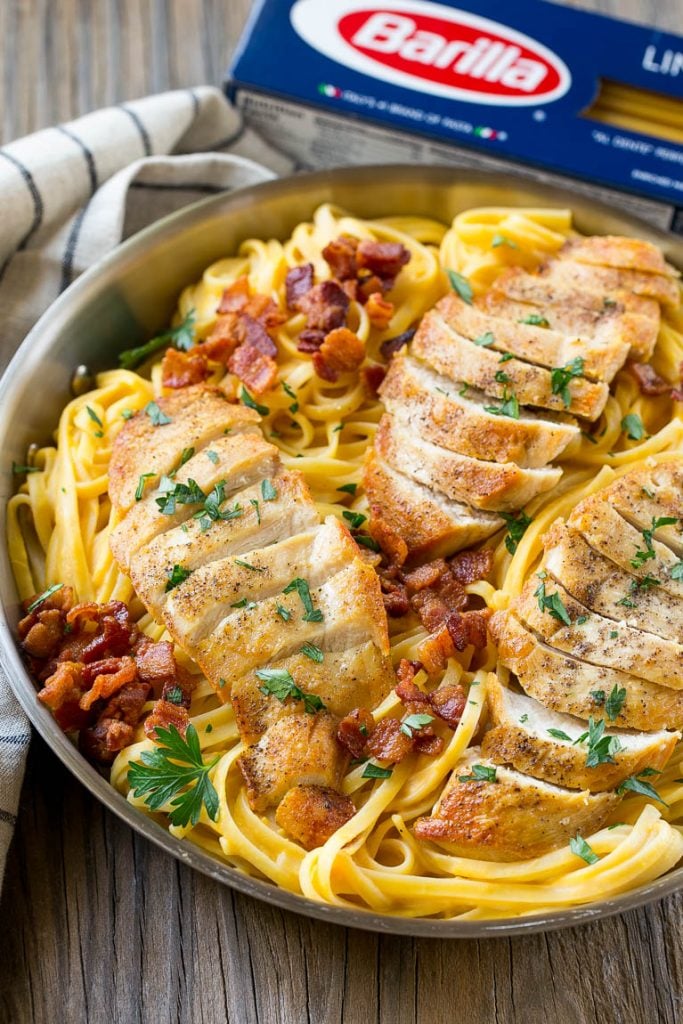 Butternut Squash Pasta with Chicken
This recipe for butternut squash pasta is linguine in a creamy butternut squash sauce, topped with sliced chicken and bacon. An easy and delicious dinner that's perfect for fall!
Ingredients
10

ounces

dry linguine pasta

1

pound

of cooked chicken breasts

(grilled, roasted, rotisserie, etc), sliced

1/2

cup

cooked crumbled bacon

1 1/2

cups

butternut squash puree (fresh frozen or canned).

If using frozen puree, thaw before use.

1/4

cup

heavy cream

1/3

cup

freshly grated Parmesan cheese

salt and pepper to taste

1/4

cup

chopped parsley
Instructions
Bring a pot of salted water to a boil; prepare the pasta according to package instructions, cooked to al dente.

Drain the pasta, reserving 1/4 cup of the cooking liquid, and return it to its cooking pot.

Place the pot over medium heat and add the butternut squash puree, heavy cream, Parmesan cheese. Stir to coat the pasta evenly; season to taste with salt and pepper.

Cook for 3-4 minutes, stirring occasionally, until sauce is heated through and is starting to thicken.

If you prefer a thinner sauce, add the cooking liquid, one tablespoon at a time, until desired consistency is reached.

Arrange the chicken and bacon over the top of the pasta and sprinkle with parsley. Serve immediately.
Recipe Notes
To make fresh butternut squash puree, steam 2 cups cubed peeled squash until tender then puree in a food processor with 2 tablespoons water. Season with salt to taste.


Nutrition Facts

Butternut Squash Pasta with Chicken

Amount Per Serving

Calories 598

Calories from Fat 153

% Daily Value*

Total Fat 17g 26%

Cholesterol 45mg 15%

Sodium 422mg 18%

Total Carbohydrates 58g 19%

Protein 48g 96%

* Percent Daily Values are based on a 2000 calorie diet.

http://www.dinneratthezoo.com/butternut-squash-pasta/